Lockdown Poetry Zoom Reading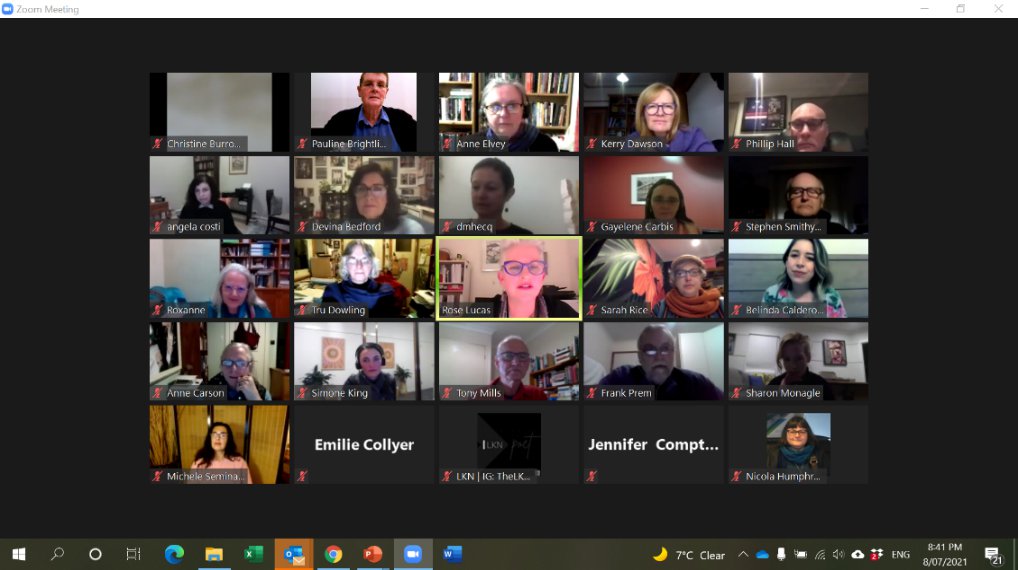 Zoom participants
20 wonderful poets and participants from Australia and across the globe – UK, USA to the Philippines – shared thoughtful, confronting and beautiful reflections on varying experiences of this Covid-era.
Nicola Humphreys
Nicola Humphreys (UK) with Virginia Woolf's study as her background, reads to the gallery.
Lockdown Poetry
Feature poetry reading
Rose Lucas reads from "2020 Shelter in Place"
On July 8, 2020 Melbourne went into its 112-day Covid-19 lockdown.
We closed our doors and braced for what we couldn't yet see – a long and painful time of uncertainty and suffering.
A year on, we can reflect on what that long dark meant for us at the time and the ways in which it has gone on impacting, both positively and negatively. And although we have been fortunate to keep Covid (mostly) at bay, the virus and its devastations continue around the world. How can we use our art to speak about the Covid-19 long haul?
In recognition of all those amazing zoom meetings which sustained us, Liquid Amber Press arranged an inaugural Zoom Poetry Reading on the theme of 'Lockdown Poetry.'
Hosted by Rose Lucas, we enjoyed 2 hours of reading and listening that, as Sarah Rice said, was 'really nourishing for the spirit'.
The poets sharing their work were:
Devina  Bedford
Roxanne Bodsworth
Christine Burrows
Gayelene Carbis
Anne M Carson
Emilie Collyer
Jennifer Compton
Angela Costi
Tru Dowling
Anne Elvey
Dominique Hecq
Nicola Humphreys
Simone King
Michael Leach
Tony Mills
Frank Prem
Julia Prendergast
Stephen Smithyman
Michele Seminara